Winnipeg, Manitoba, April 18, 2023 – Beyond Minerals Inc. (the "Company" or "Beyond Minerals") (CSE:BY) (OTCQB: BYDMF) is pleased to announce that the Company has expanded the McKenzie Bay, Wapesi Lake and Wapesi North properties by low-cost map staking. Highlights of the expansion announced today by the Company in the Wapesi Lake area in Ontario include:
The new claims cover 227 provincial grid cells and add 5,169 additional hectares
The McKenzie Bay (6,186 hectares), Wapesi Lake (944 hectares) and Wapesi North (1,864 hectares) properties are now connected to form one contiguous property covering 14,163 hectares
The expansion covers important interpreted geological trends (granite and pegmatite fractionation trends) and possible structural controls on these interpreted trends (Wapesi Lake Fault)
"With a 14,163-hectare land position, Beyond is now the largest player in the Wapesi Lake area. This area has recently seen increased interest by resource exploration companies, including Collective Metals Inc. (CSE: COMT) and Cashbox Ventures (CSE: CBOX) making significant acquisitions to the west of our property," said Allan Frame, President and CEO of Beyond. "This type of activity, which we are seeing in other parts of Ontario as well, seem to support our decision to focus on Ontario. This province is quickly emerging as a reliable global supplier of responsibly sourced critical minerals."
"World-class deposits of high purity, low-iron spodumene are currently being discovered and advancing toward production. We are confident more of these deposits remain to be discovered here. While other jurisdictions such as Quebec have seen success from a geological standpoint, we feel the economics of transactions being done in Ontario are more compelling and conducive to creating shareholder value."
Mr. Frame concluded: "It is also important to note that this expansion of our footprint in the Wapesi Lake area is consistent with our corporate strategy of acquiring properties for which significant amount of geological information is available, as demonstrated by the information contained in this press release."
Figure 1 – McKenzie Bay Property Tenure Map
Figure 2 – McKenzie Bay Property Geology Map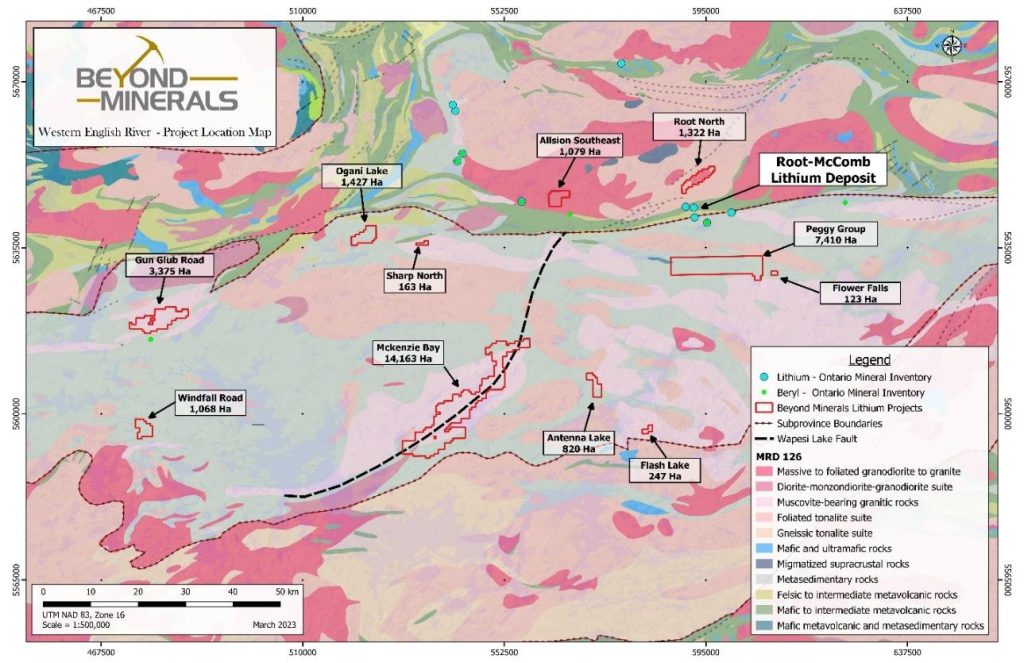 Pegmatites found within the Wapesi Batholith have been studied by the Ontario Geological Survey since 2007 when the Red Lake Resident Geologist collected two (2) grab samples, one sample (2007CS010) consisting of a bulk pegmatite sample, the second sample (2007CS009) consisting of muscovite-only. Geochemical analysis demonstrated that these samples were taken from a moderate-highly fractionated or evolved pegmatite, with the bulk pegmatite sample having a K/Rb ratio of 109.2 and an Mg/Li ratio of 11.9, and with the muscovite sample having a K/Rb ratio of 47.5 and an Mg/Li ratio of 4.6. The muscovite sample was found to have elevated lithium (Li = 648.7 ppm). Most of the key indicators for the muscovite sample (2007CS009) fall within the range expected of beryl-type pegmatites, as illustrated in the table below:
Table 1. Ranges of Compositions of Muscovite Analyses (Selway, et al 2005)
Muscovite
Li (ppm)
Rb (ppm)
Cs (ppm)
K/Rb
Ta (ppm)
2007CS009
648.7
1830
89.2
47.5
23.4
Fertile Granite
200-500
1000-1500
10-100
50-100
10-65
Beryl-type pegmatite
500-2000
1500-10000
100-500
20-50
10-65
Spodumene-subtype pegmatite
>2000
>10000
>500
<20
>65
The Red Lake Resident Geologist concluded that this preliminary reconnaissance work demonstrates "that pegmatites with elevated rare metal content and displaying some of the features of potential rare metal mineralized pegmatites do occur in the Wapesi Lake area, but more intense exploration and sampling is required to determine if potentially economic rare metal pegmatites are present." (Lichtblau, et al. 2008)
This work was followed by a regional reconnaissance scale survey conducted by the Red Lake Resident Geologist in 2019. 17 samples were collected along an 80-km transect of the English River Subprovince along the McKenzie Bay Road which passes over the Wapesi Batholith (S-type, peraluminous granite). During this program, three granite grab samples (2019SL11, 2019SL12, 2019SL13) were collected within the current boundaries of the McKenzie Bay Property. The K/Rb ratios (mean = 128.6, range = 110.2-145.3), Mg/Li ratios (mean = 11.0, range = 8.1-16.2), cesium (mean = 17.49 ppm, range = 12.27-24.33 ppm), lithium (mean = 103.6 ppm, range = 68.2-157 ppm), rubidium (mean = 254.77 ppm, range = 193.64-314.46 ppm) and A/CNK ratios (mean = 1.21, range = 1.09-1.30) support the status of the Wapesi Batholith as a potentially fertile, s-type, peraluminous granite. The K/Rb and Mg/Li ratios of these 3 samples were the lowest among the 17 samples collected along the 80 km transect of the McKenzie Bay Road, indicating these are the most fractionated/evolved granites found within the survey area.
In 2022, Bounty Gold Corp and Last Resort Resources conducted grassroots prospecting to follow up on the OGS sampling and recommendations for more intense exploration and sampling. During this program, 20 grab samples were collected from different areas of the McKenzie Bay Property. The results of this sampling continued to demonstrate the potential of the area to host rare-element pegmatites, with K/Rb ratios as low as 50.56 and Mg/Li ratios as low as 1.51 encountered, indicating a moderate-high level of fractionation of the pegmatites. This was supported by anomalous lithium (7 of 20 samples over 100 ppm), cesium (15 of 20 samples over 10 ppm) and rubidium (13 of 20 samples over 300 ppm).
More importantly, together with the OGS sampling conducted in 2009 and 2019, geochemical data is now available for 39 grab samples collected from this region. Analysis and interpretation of this data now shows an interpreted fractionation "trend" along which the lowest K/Rb ratios are found. This trend appears to pass SW-NE through the McKenzie Bay Property for ~12 km as illustrated in Figure 3.0 below. The location and orientation of this fractionation trend roughly corresponds to the location of an interpreted regional scale fault, the Wapesi Lake Fault (WLF) and it is possible the latter may impart a structural control to pegmatite emplacement and the fractionation trend observed through geochemical sampling.
The new staking announced today is intended to cover an additional ~4.5 km of the interpreted fractionation trend, and now connects the McKenzie Bay, Wapesi Lake and Wapesi North Properties into one contiguous land package along the interpreted Wapesi Lake Fault, enhancing Beyond Minerals' ability to explore this entire prospective trend unimpeded.
Figure 3 – McKenzie Bay – Interpreted Fractionation Trend
The Red Lake Resident Geologist also conducted a property examination of the McKenzie Bay Property in September 2022. During this property examination seven grab samples were collected by the Red Lake Resident Geologist for geochemical analysis. Geochemical results are pending, but once published will help expand Beyond Minerals' understanding of the geology and geochemical trends of the property.
Beyond Minerals intends to conduct extensive grassroots prospecting and regional reconnaissance sampling during the 2023 field season and intends to follow the geochemical data to vector into areas having higher potential to host rare-element (LCT) pegmatites. In the case of the expanded McKenzie Bay Property, this activity will now involve additional sampling between known data points and sampling along strike of the interpreted fractionation trend.
The preceding disclosure is based on information that is historical in nature and cannot be treated as NI-43-101 compliant verified by a qualified person.
About Beyond Minerals Inc.
Beyond Minerals Inc. is the largest greenfield lithium exploration player in Ontario with 64 high potential greenfield lithium properties totalling over 150,000 hectares. The Company has adopted the project generator business model to maximize funds available for exploration projects, while minimizing shareholder dilution. Beyond Minerals is advancing certain of its projects with its exploration team and will seek to option other properties to joint venture partners. Partnering on various projects will provide a source of non-dilutive working capital, partner-funded exploration, and long-term residual exposure to exploration success.
Please follow @BeyondMinerals on Twitter, Facebook, LinkedIn, Instagram and YouTube.
For more information, please refer to the Company's website at www.beyondlithium.ca
CAUTIONARY STATEMENT REGARDING FORWARD-LOOKING INFORMATION: This news release includes certain "forward-looking information" within the meaning of applicable Canadian securities legislation. All statements, other than statements of historical fact, included herein including, without limitation, statements regarding future capital expenditures, anticipated content, commencement, and cost of exploration programs in respect of the Company's projects and mineral properties, anticipated exploration program results from exploration activities, resources and/or reserves on the Company's projects and mineral properties, and the anticipated business plans and timing of future activities of the Company, are forward-looking information. Although the Company believes that such statements are reasonable, it can give no assurance that such expectations will prove to be correct. Often, but not always, forward-looking information can be identified by words such as "pro forma", "plans", "expects", "will", "may", "should", "budget", "scheduled", "estimates", "forecasts", "intends", "anticipates", "believes", "potential" or variations of such words including negative variations thereof, and phrases that refer to certain actions, events or results that may, could, would, might or will occur or be taken or achieved. In stating the forward-looking information in this news release, the Company has applied several material assumptions, including without limitation, that market fundamentals will result in sustained precious and base metals demand and prices, the receipt of any necessary permits, licenses and regulatory approvals in connection with the future exploration of the Company's properties, the availability of financing on suitable terms, and the Company's ability to comply with environmental, health and safety laws.
Forward-looking information involves known and unknown risks, uncertainties and other factors which may cause the actual results, performance or achievements of the Company to differ materially from any future results, performance or achievements expressed or implied by the statements of forward-looking information. Such risks and other factors include, among others, statements as to the anticipated business plans and timing of future activities of the Company, the proposed expenditures for exploration work on its properties, the ability of the Company to obtain sufficient financing to fund its business activities and plans, delays in obtaining governmental and regulatory approvals (including of the Canadian Securities Exchange), permits or financing, changes in laws, regulations and policies affecting mining operations, risks relating to epidemics or pandemics such as COVID-19, the Company's limited operating history, currency fluctuations, title disputes or claims, environmental issues and liabilities, as well as those factors discussed under the heading "Risk Factors" in the Company's prospectus dated February 23, 2022 and other filings of the Company with the Canadian securities regulatory authorities, copies of which can be found under the Company's profile on the SEDAR website at www.sedar.com.
Readers are cautioned not to place undue reliance on forward-looking information. The Company undertakes no obligation to update any of the forward-looking information in this news release except as otherwise required by law.
For further information, please contact:
Allan Frame
President and CEO
Tel: 403-470-8450
Email: allan.frame@beyondlithium.ca
Jason Frame
Manager of Communications
Tel: 587-225-2599
Email: jason.frame@beyondlithium.ca
References
1 Lichtblau, A.F., Ravnaas, C., Storey, C.C., Hinz, P. and Bongfeldt, J. 2008. Report of Activities 2007, Resident Geologist Program, Red Lake Regional Resident Geologist Report: Red Lake and Kenora Districts; Ontario Geological Survey, Open File Report 6216, 89p.
2 Paterson, W.P.E., Ravnaas, C., Lewis, S.O., Paju, G.F., Fudge, S.P., Daniels, C.M. and Pettigrew, T.K. 2020. Report of Activities 2019, Resident Geologist Program, Red Lake Regional Resident Geologist Report: Red Lake and Kenora Districts; Ontario Geological Survey, Open File Report 6363, 112p.